EPX Symposium @ Sci-Arc – 03.06.14
Organized by Liss C. Werner, Eric Goldemberg, and Juan Azulay.
EPX is a symposium that launched 3 of the most significant contributions to contemporary architecture discourse spanning the last 3 years of experimentation in computation and material practices:
– [En]Coding Architecture by Liss C. Werner
– Pulsation in Architecture by Eric Goldemberg
– Architecture Xenoculture by Juan Azulay & Benjamin Rice
Architecture practice and education over the last 15 years have been subject to a very fast pace process of revolutionary innovation in technology; followed by rapid fire succession of regurgitation-through-cliché, exhaustion of morphological fetish coupled with easy-listening philosophy, and production of new co-modified, mass-consumable-ready technique of the moment.
These 3 books attempt at decelerating the consumption of computational imagery by introducing a critical discourse that examines and generates feedback across different avenues of production vis-à-vis situating the nuances of 3 different lenses for augmented cultural digestion, namely code, rhythm, and mediated affect.
Format:
The event was moderated by Professor Peter Zellner, and was divided in 3 consecutive sessions and a climatic discussion involving all the panelists.
The list of participants includes:
Liss C. Werner – Warren Neidich – Eric Goldemberg – Hernan Diaz Alonso – Juan Azulay & Benjamin Rice – Neil Leach – Flowen – Volkan Alkanoglu – Benjamin Bratton – Anouk Wipprecht – Marcelo Spina – David Maisel – Marcelyn Gow – Christian Moeller – Madeline Gannon.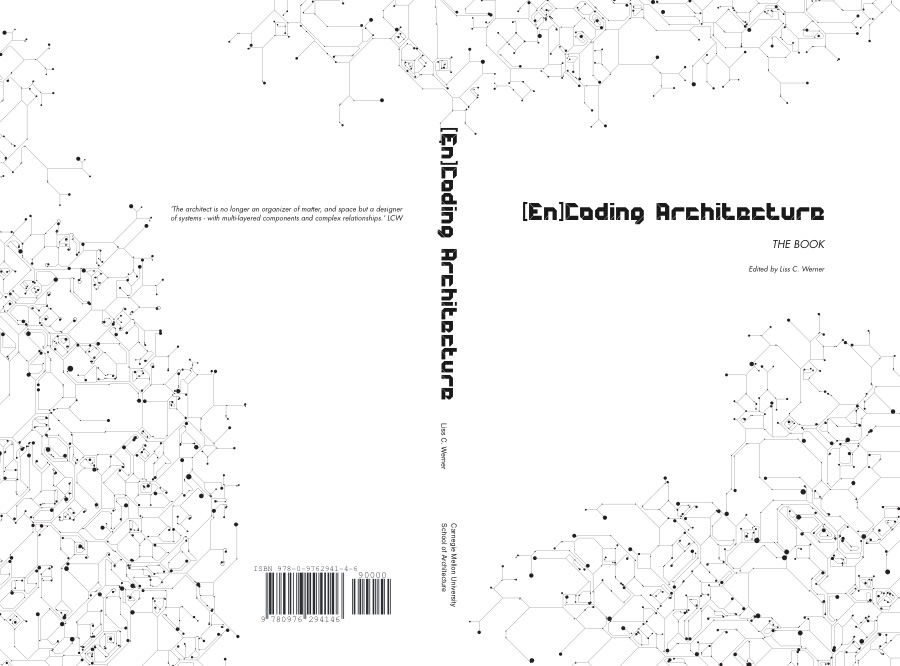 [En]Coding Architecture 2013
[EN]CODING ARCHITECTURE 2013 is the title of a 3-day conference on the autonomy of architecture, code, fabrication, material morphology, robots, machinic desire and computation held at Carnegie Mellon University, School of Architecture in Pittsburgh, Pennsylvania in February 2013. The event focused on the ongoing paradigm shift, or rather state change in architecture and the role of the designer/architect in the age of code, beyond linear communication channels or a clear differentiation of disciplines, which has dominated the profession of architecture since the second industrial revolution.
The book presents an overview of what [En]Coding in Architecture may consist of, how it can be defined and which way a new language and new tools, namely the language and tools of computer sciences, influence computational thinking for architecture and the built environment. It positions the field of architecture as an alloy of programming, digital tooling, art, and science. It synthesizes new trajectories for the profession in a cybernetic context of tectonics, cultural philosophy, architectural theory and geopolitics.

Author: Liss C. Werner
More about this book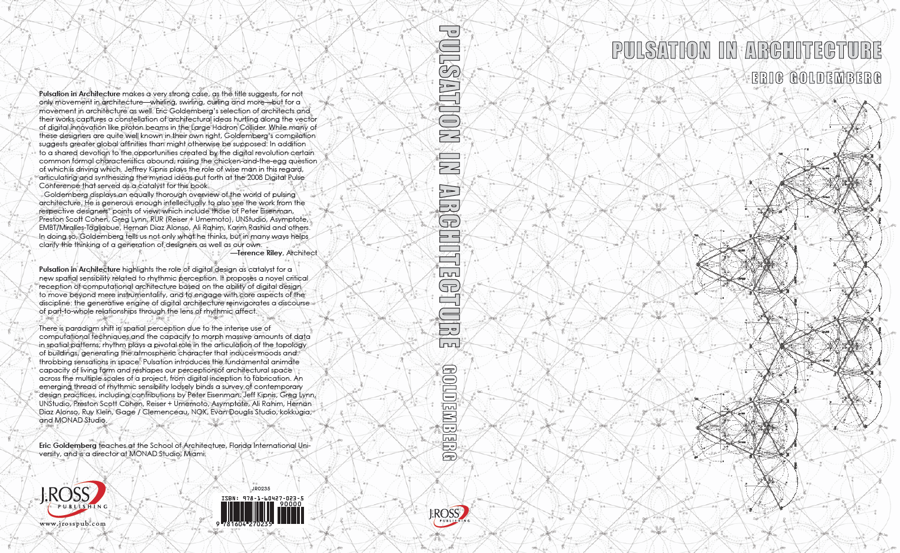 Pulsation in Architecture
Pulsation in Architecture highlights the role of computation as catalyst for a new spatial sensibility related to rhythmic perception. It proposes a critical reception of digitally driven architecture based on the capacity of digital design to move beyond mere instrumentality, engaging with core aspects of the discipline. The generative engine of computation reinvigorates a discourse of part-to-whole relationships through the lens of rhythmic affect.
There is a paradigm shift in spatial perception due to the intense use of digital techniques and the ability to morph massive amounts of data into spatial patterns. Rhythm plays a pivotal role in the articulation of the topology of buildings, generating the atmospheric character that induces moods and throbbing sensations in space. Pulsation introduces the fundamental animate capacity of form and reshapes our perception of architectural space across multiple scales of a project, from digital inception to fabrication. An emerging thread of rhythmic sensibility binds loosely a survey of contemporary design practices, including contributions by Jeffrey Kipnis, Peter Eisenman, Greg Lynn, UN Studio, Preston Scott Cohen, Reiser + Umemoto, Asymptote, Ali Rahim, Hernan Diaz Alonso, Ruy-Klein, Kokkugia, Evan Douglis and Gage Clemenceau.
Author: Eric Goldemberg
MONAD Studio – www.monadstudio.net
Goldemberg holds a Master of Science in Advanced Architectural Design from Columbia University.
He worked in New York for Peter Eisenman as senior designer for the City of Culture of Galicia, and he was also project architect for Asymptote Architecture – Hani Rashid and Lise Anne Couture. Goldemberg is currently Digital Design Coordinator and teaches graduate studios and advanced digital design and fabrication courses at Florida International University in Miami. Previously he taught at Pratt Institute, Columbia University, New York Institute of Technology, New Jersey Institute of Technology, University of Buenos Aires, and IAAC – Institute for Advanced Architecture of Catalonia, Barcelona.
Eric Goldemberg is the author of the book "Pulsation in Architecture" which highlights the range and complexity of sensations involved in constructing rhythmic ensembles. He lectured at Cooper Union New York, Architectural Association London, Die Angewandte Kunst Wien program in Cagliari, Politecnico di Milano, ETSAB Barcelona, Iaac Barcelona, MIT Boston, Studio-X Columbia University, University of Puerto Rico, MOCA Miami, Wolfsonian Museum Miami, University of Miami, University of Buenos Aires, Di Tella University, SCA – Central Society of Architects in Buenos Aires.
His firm MONAD Studio was co-founded in 2002 with Veronica Zalcberg. 
MONAD Studio is a design research practice with focus on spatial perception related to rhythmic affect and feedback systems. The work of MONAD Studio has been published in The New York Times, Architectural Record, World Architecture (China), 'Architecture in Formation' book, '[En]Coding Architecture' book, Conditions Magazine (Norway), I4Design (Chicago), Future Arquitecturas (Spain), Summa+ (Argentina), La Nacion (Argentina), PP@PD (Penn School of Design), Evolo Magazine (L.A.), Miami Herald, Florida InsideOut, Design Book Magazine among other architecture journals.
MONAD Studio was one of the 5 finalists of the 2008 PS1-MoMA competition and the project was exhibited at the Museum of Modern Art (MoMA) in New York. MONAD's entry was also exhibited in New York at the PS-1 Contemporary Art Center – YAP 10th Anniversary show. MONAD Studio was selected as finalist on the Miami Dawntown 2012 Design/Build competition. The firm received a bronze medal award at the 2007 Miami Biennial for the Performing Arts Center project in Oslo, Norway.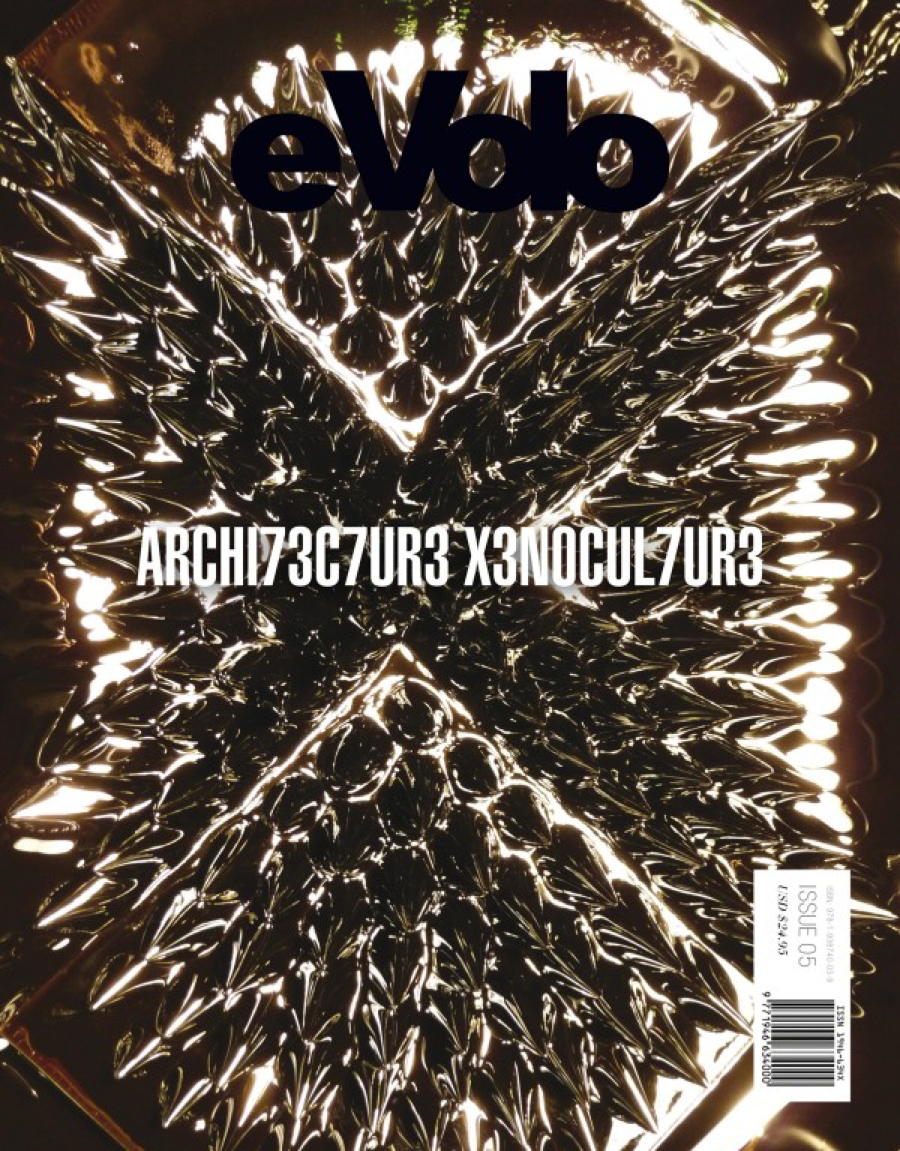 Architecture Xenoculture
Xenoculture is a term coined by Iranian writer and philosopher Reza Negarestani that describes the need for embracing and exploring the unexpected, the alien. In this book we borrow the idea and explore the realm of Architecture Xenoculture — the work of architects, artists and designers who detach from everything that architecture is supposed to be and look like, including preconceived forms and aesthetics, to look into new architectural and design possibilities. An architectural form that emerges from mathematical processes and new material explorations and proposes something never before seen — an aesthetic yet to be determined.
Some of the work showcased has been produced by leading architecture practitioners and academics worldwide including: Hernan Diaz Alonso, Servo, Francois Roche, Marc Fornes, Kokkugia, Zaha Hadid, Floria Sigismondi, Flowen, Nick Cave, and Rafael Lozano-Hemmer among others.
Author: Juan Azulay
http://www.ma77er.com
 
Juan Azulay is award winning architect, filmmaker, curator and media artist born in Argentina and working in Los Angeles, California. He is the creative director of L.A.-based MTTR MGMT and author of Architecture Xenoculture.
 Among his most recognized work is a collaboration with Oscar-winner Guillermo Navarro for film work, as well as No Wave legend Lydia Lunch, for a film-performance directed in real-time titled "Flood Stains", featuring an installation by Azulay himself called "Vivarium" (featuring robots, video, salt, biological organisms and an ABS enclosure) and a 'bacterial opera' by Lunch, a reinterpretation of 'In Spite of God', a product of her own collaboration with Omar Rodriguez Lopez of The Mars Volta.
 
Azulay has also designed seven award-winning buildings including the Northview Gymnasium and the Glendale Library in Los Angeles, California – as well as the Beauty Envy headquarters in Miami and the Aquaterrari for the New Barcelona Zoo.
Juan's work is widely published and is owned by the MAK Museum in Vienna and the ACE Museum in Los Angeles. He has also worked for Frank Gehry.